Using Rewards....A Case Study.
Some time ago, my partner and I decided it would be great to get away for a long weekend to London at the end of August. The bank holiday weekend seemed perfect, we would both be off work, and so if we got away on the friday evening, we could have 3 nights away.
This was a perfect opportunity to put into action some of my experience in getting and using rewards, and so I decided to make this trip a study into just how much value I could get from rewards, loyalty programmes, hotel discounts etc.
THE FLIGHTS
We are in Northern Ireland, so the obvious choice was to fly BA from Belfast City to Heathrow, and book using Avios. Return for two, flying friday evening, returning Monday afternoon, was booked, for a total cost of 18,000 avios and £60. Virtually every flight during the day was available, and one of the advantages of booking with rewards is that there are no premium prices, if the flight you want is available it costs the same number of avios as any other. For the flights we choose, the cost for two in cash was £245. Thats £185 saving for the 18,000 avios, or just over 1p per avios.
A while back, I had an American Express platinum credit card. One of the benefits of this card was that it grants you Cathay Pacific Gold status. Although I have since cancelled my Amex Platinum card, at the time of booking, the membership year for the Cathay Pacific gold status had not expired. A benefit of this status is that it allows you to pre-book exit row seats on BA domestic flights, at no charge, normally there is a £5 charge per seat. So I duely booked exit row seats, out and back, a £20 value.
Car parking options are extremely limited for BHD. Fundamentally, it's the airports own car park, or one in the IKEA store a few minutes away. The pricing isn't that different, and the airport one is a short walk from the terminal. There is no way to book this using rewards, but I did book it via
TOPCASHBACK
, which got me a small return for my booking. £36 less the TCB discount. Topcashback is an excelletnway of enhancing your avios total. As you buy things via TCB, your discount goes into your topcashback account. At any time, this account can be converted into Tesco points, and of course, Tesco points can be converted to Avios ! Just click on the link above to open your topcashback account.
The Cathay Pacific Gold card I mentioned earlier has another great benefit. It provides access to BA airport lounges. This is particuarly useful in BHD (Belfast city) as there are no 3rd party lounges. Although not a fantastic lounge, it does provide free tea/coffee/snack and wine and beer and some spirits. The lounge in Heathrow T1 is quite a bit better. Anyhow, two people could easily spend £25 on snacks and drinks each way, so there was another £50 of value for zero outlay.
THE HOTELS
I'm a fan of the Intercontinental hotel group, which includes Holiday Inn, Crowne Plaza, and the flagship Intercontinental hotel group. My reasons for being a fan are two-fold.
1) There are loads of opportunties to collect their loyalty points.
2) They have by far the best, best price guarantee (BRG) in the business. If you can find a better rate for the exact same room and dates etc, you get the first night free. That's right, if you book a single night and can find a better rate, you will get that night free.
There are two 5 star intercontinental holels in London, The Park Lane and the Westminster.
For the first night, I managed to get a BRG night at the fabulous Intercontinental Park Lane. Basically this means I found the night cheaper than could be booked on the IHG website. The booking also included breakfast. This room, to book, would cost £560. I have ambassador status, and because of this, the hotel gave me an upgrade to an executive room. On the night in question, the hotel was fully booked, and executive rooms had been booked for over £700.
Executive room, Intercontinental Park Lane
The rules of the BRG programme at the time of booking were that you could not have two consecutive BRG nights in two hotels within 50 miles of each other. So my next night in London could not be a BRG night. I used 50K points and booked a reward night at the intercontinental Westminster. This is a new hotel, opened less than a year ago. Again, its a 5 star property, and in a great tourist location, between Buckingham Palace, and the Houses of Parliament. The 3rd night, I managed to get a Best Rate Guarantee at this property, again including breakfast, a £261 night for free. Once again my Ambassador membership provided me with a room upgrade.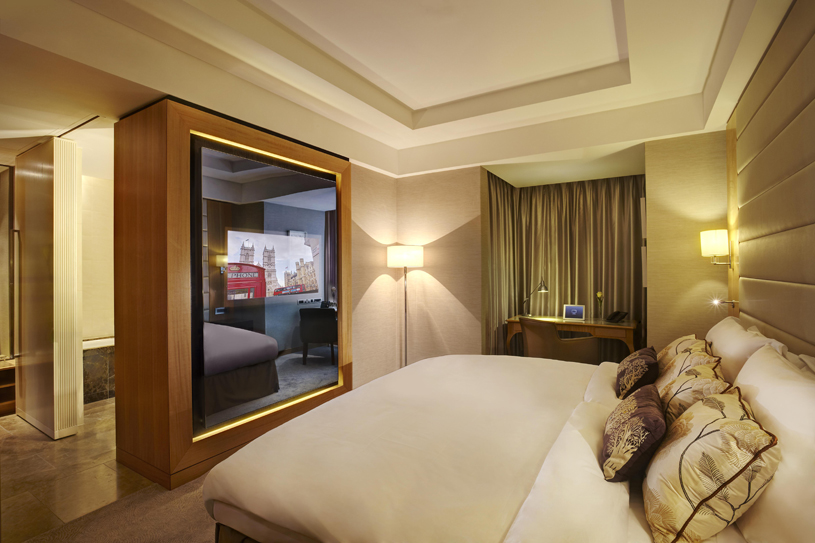 Intercontinental westminster
TRANSPORTATION
Quite some time ago, I signed up for Uber, the luxury taxi service, which operates in major cities, including London. Uber is basically private premium cars that make themselves available via the Uber app, to supplement their income. You pinpoint your location on the Uber map, and the app tells you how long the driver is away from you, and you can book him there and then.
The signup got me £20 of free Uber credit. I didn't think this would be worth much, but it in fact covered the cost of transporting us from the Park Lane to the Westminster hotels, AND also cover a run to the threatre one night.
SUMMING UP
Everything above cost me 18,000 avios, plus £60 plus 50K IHG loyalty points (exlcuding the car parking). For that I got return flights for two people BHD to LHR including 4 exit row seats, drinks and snacks at both airports, 3 nights accomodations (2 including breakfast) in 5 star hotels to the value of over £1300, and 2 private car journeys around london.
Of course some of those benefits came via the platinum credit card, which did cost £450 for the year I had it. But the Platinum card gets you 30,000 American Express points or 35,000 points if I refer you, which is more than enough to get two economy seats London to Rome for example.
If you would like a referral for the Platinum American express card, just email me on
goingonrewards@mccomp.plus.com